Cylinder Boring Service
Quick Turnaround, Next day when possible
Does your cylinder need a new piston, Bore job? Bring it by for a free measurement. I'll show you what it needs and how we do it.   
Call me First: 503-593-2908 
           
Cycles    ATV    Outboard    2-Stroke    4-Stroke    Blind Bore   Subaru

           
We Use Kwik Way Machines
     
2-Strokers    $60.00 per hole, Additional Cylinders time & materials
4-Strokers    $55.00 per hole, Additional Cylinders time & materials
Cylinder Boring prices include Precision power honing with our Sunnen Equipment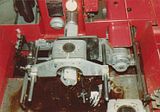 All cylinder repairs are finish measured with Dial Bore gauges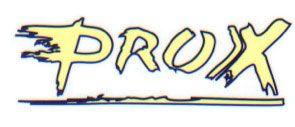 2-Stroke

top end Special for Local customers only

    

Bore & Hone your Cylinder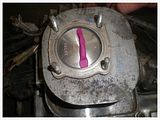 Measure & correct your Deck / Squish Height

 Surface & clean cylinder head
$75.00, Good price for a little extra Kick from your engine
 
                          Since 1971 Custom  Manufacture
The developer of chemical etched 2-Stroke cylinder liners
We are the place to go for that special project
Anything which you can't find elsewhere can probably be manufactured at www.smallenginemachineworks.com


Cylinder Sleeve/Liner Replacement


If you have questions about your Sleeve project, Give me a call. (503) 593-2908 We can talk about any questions you may have.
We may be able to change your port timing while installing your new sleeve, saving you time & money.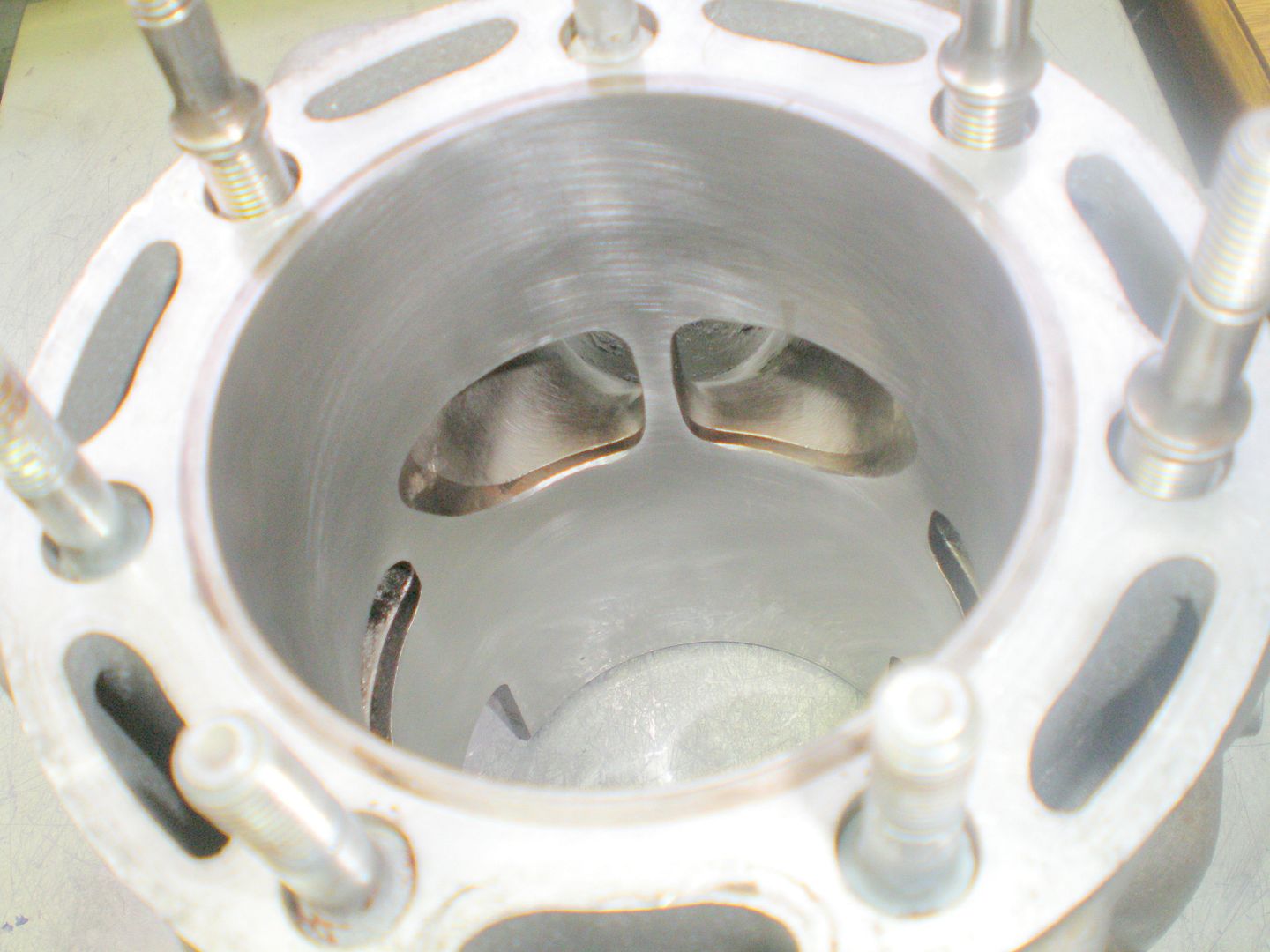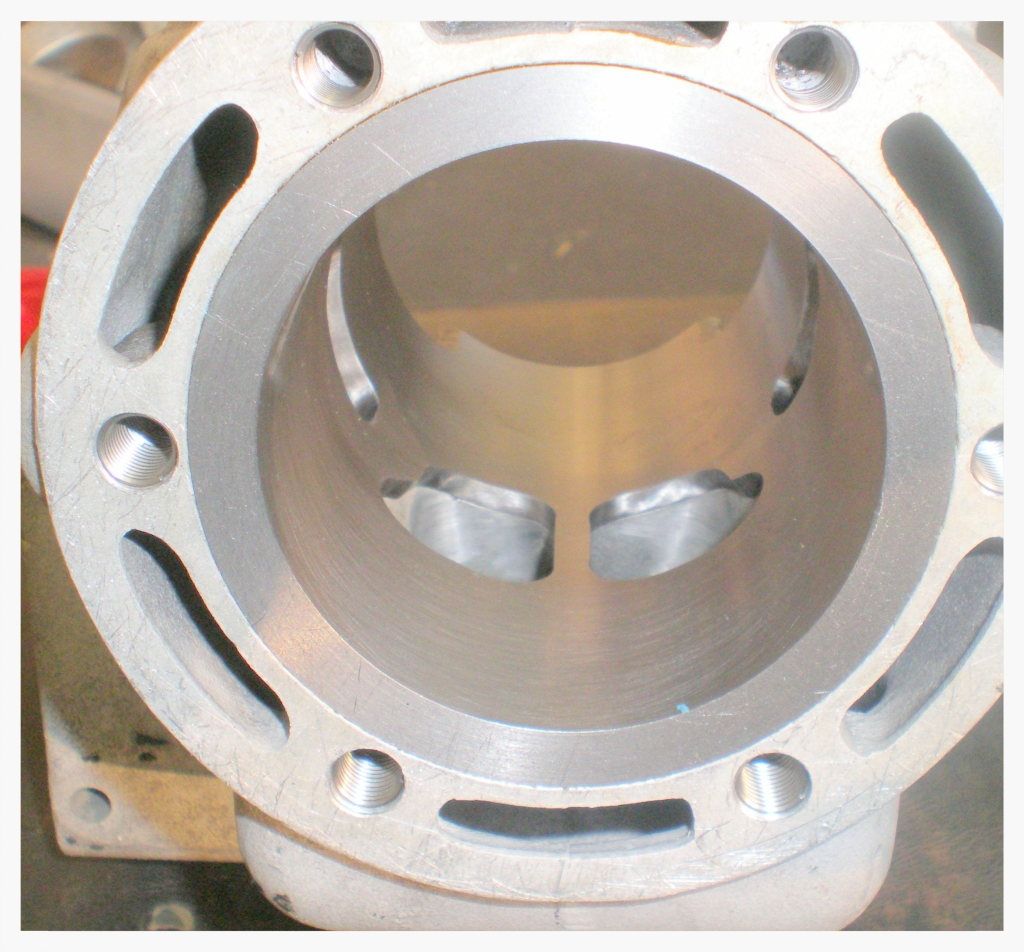 500                                    250                                 125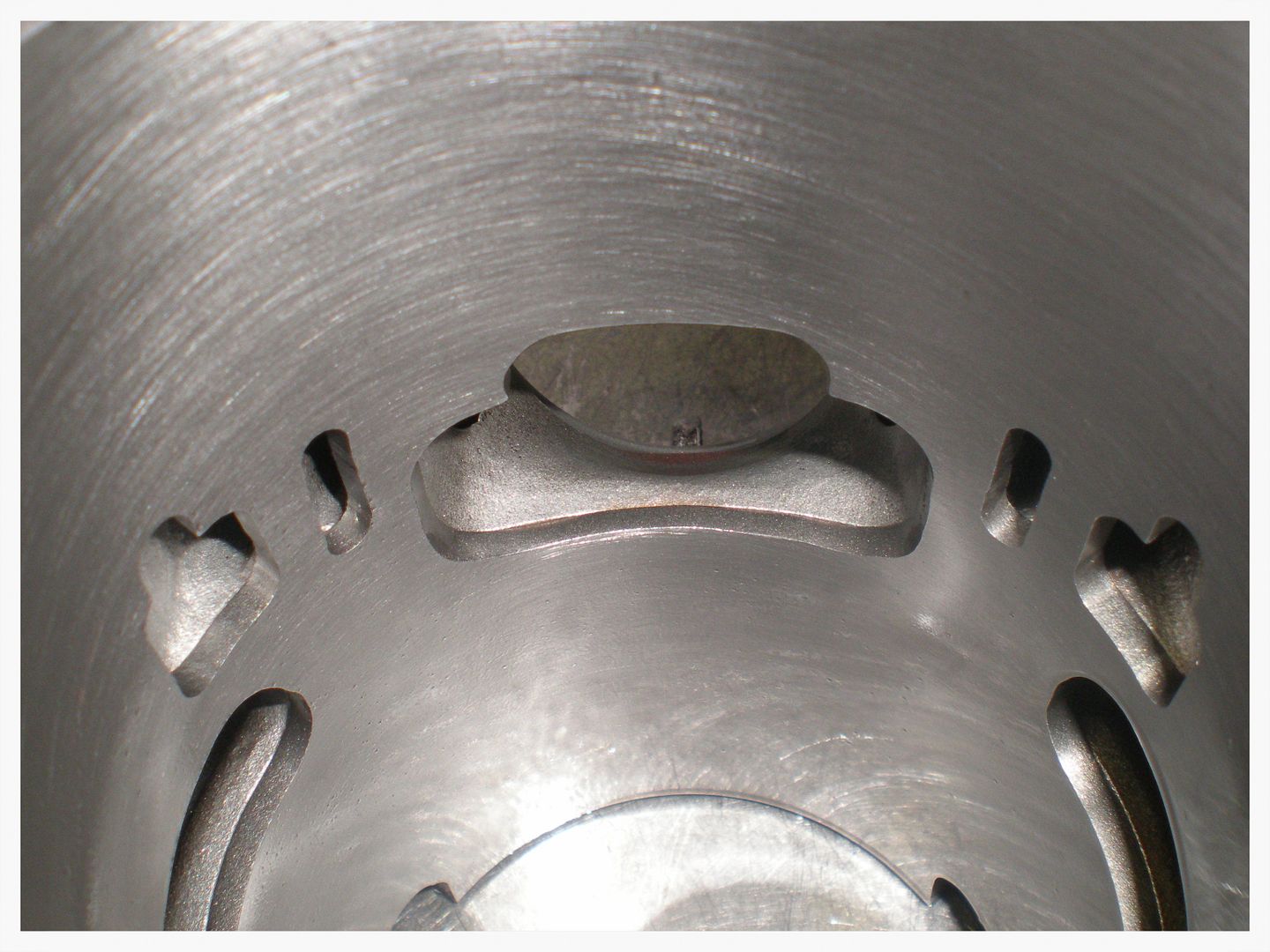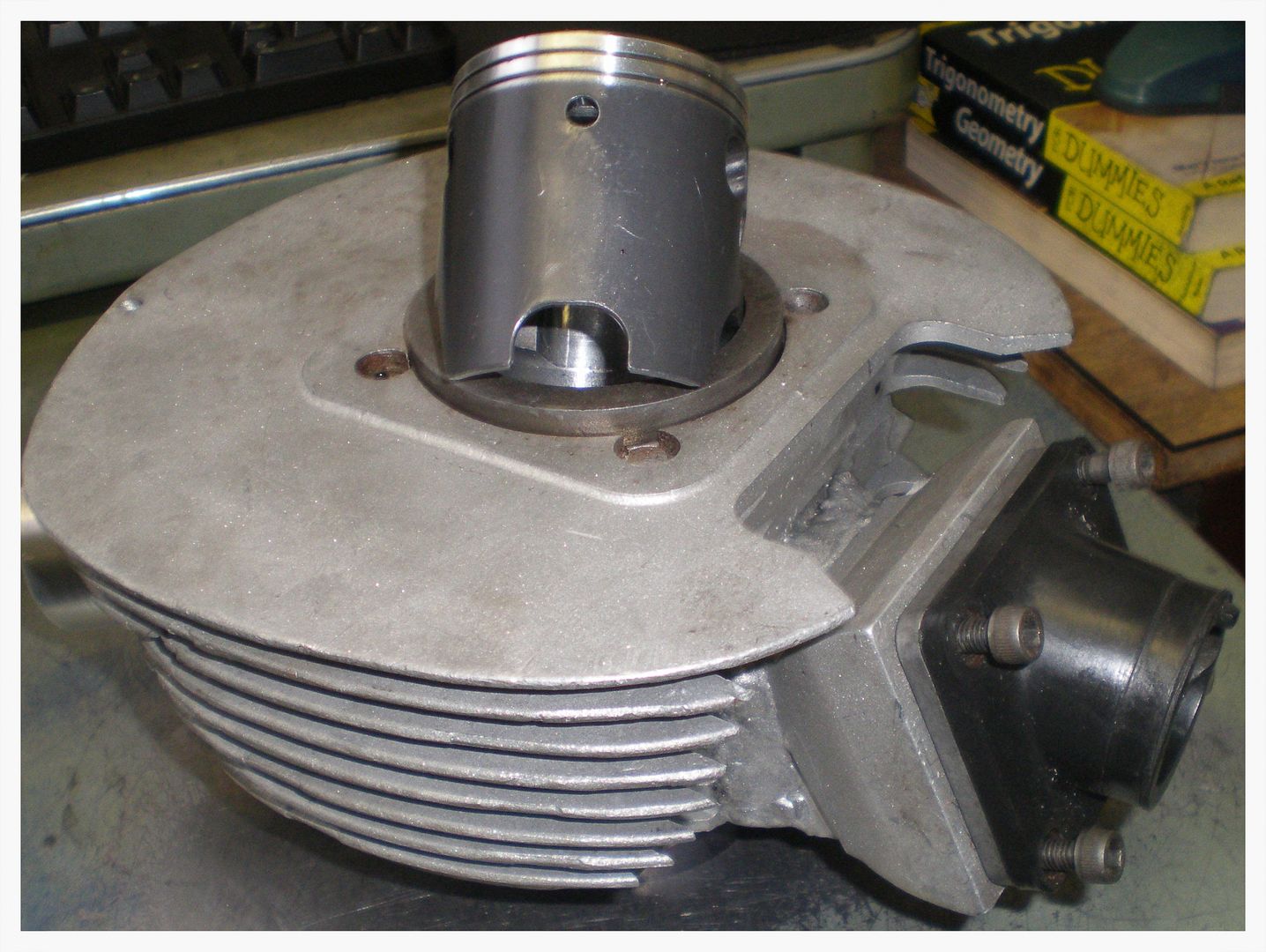 KX500 Kawasaki                                            Montessa Big Bore / RD400 Reed Valve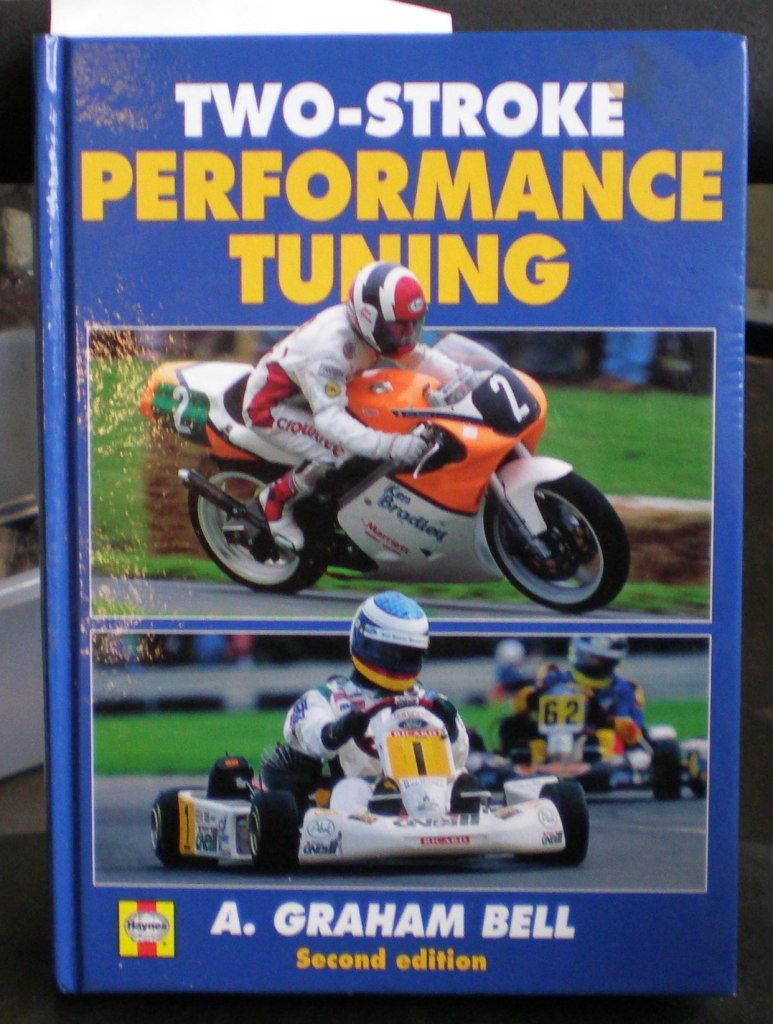 When A customer drops off a cylinder for repairs, we loan a copy of Performance Tuning for study 

When your cylinder arrives for repair, make sure that all steel parts & power valves have been removed.
Send your removed power valve so we can check for finished fit & function
We take care of your headstuds, Your  Cylinder head studs are removed & replaced with Stainless Steel
No Extra Charge


Snapped & broken studs Extra Charge (threaded inserts installed)
L
 Send your head along with your cylinder, Cylinder Sleeve Service also includes Clean & Lap  your cylinder head

We started installing Cylinder Sleeve / Liners when I started the company back in 1971.
All of my castings were & are still poured at local foundries in the Portland area.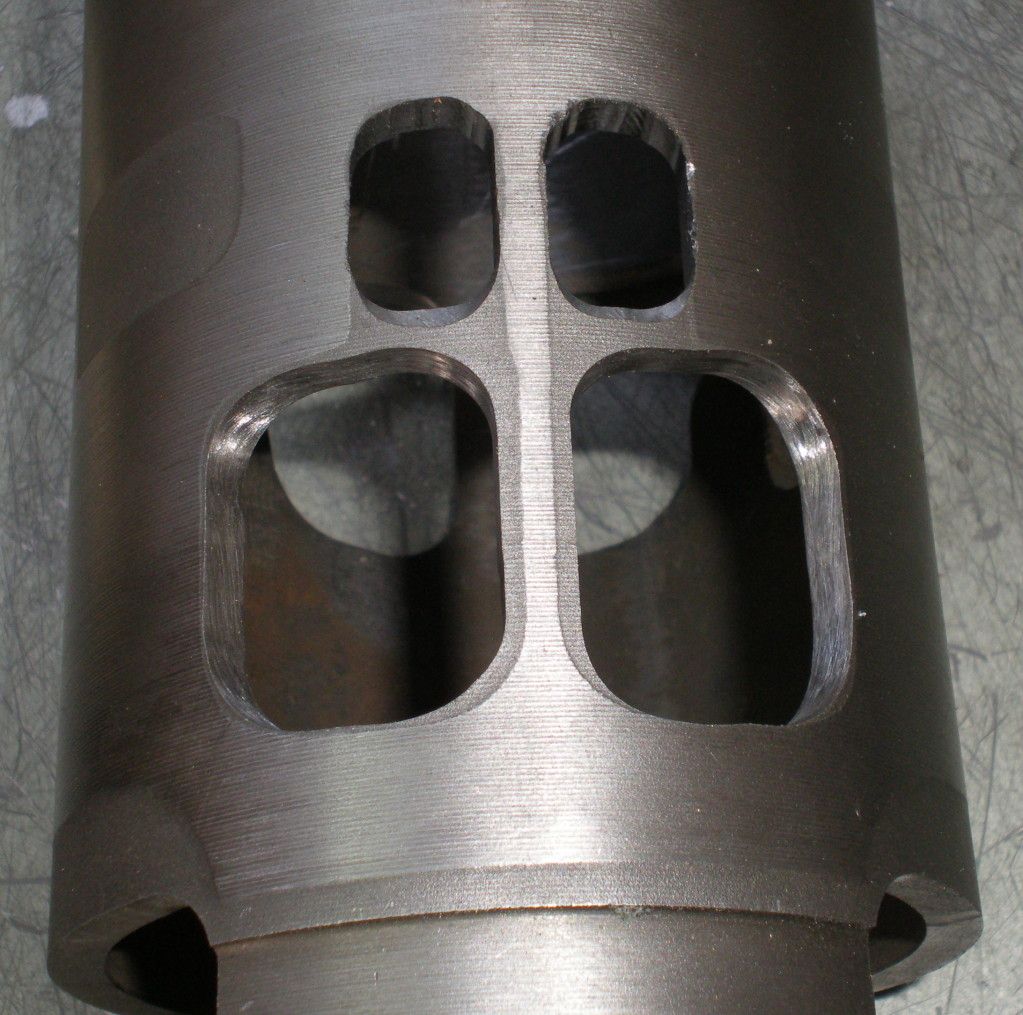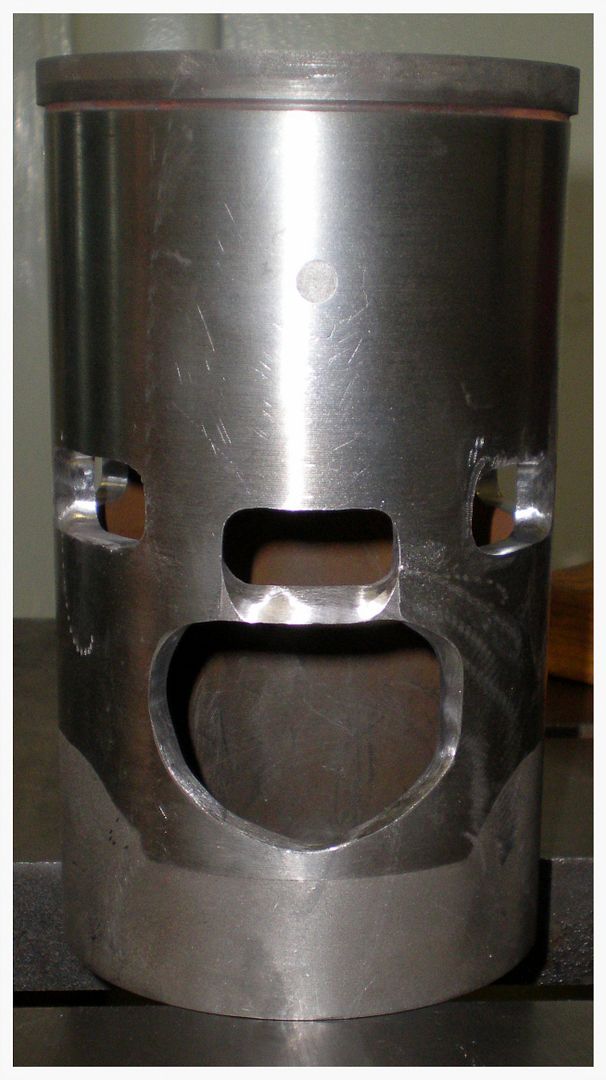 Sometimes we will add a couple of ribs in an area which would give better support to the Piston & cylinder hone.
Sometimes the port size is reduced in order to correct an over exuberant port grinder.
In any case our custom cut ports can repair about any situation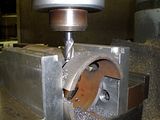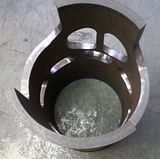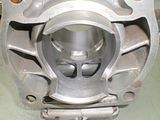 Acid Etch Marking            Milling Machine cutting      Finished Outside               Finished Inside                 Ready to install              Finished Installation
CR500 Honda cylinder repair
Sleeve Installation Prices $175.00-$275.00 Plus the Casting Cost
We are Dealers for WISECO, PRO-X & Wossner Pistons & Gaskets 
    There are many other repair shops claiming to do sleeve installations.
Most are using precut liners which were
prepared in advance.
My Liner replacements are completely machined in our facility.
I chemically etch the ports before I hand cut them on my mill.
This is truly the most accurate way to install ports in a 2-Stroke cylinder
.
Sleeve or Plate
In the beginning of the internal combustion engine, blocks and most all cylinders were made from cast Iron. Things worked out well since cast iron is filled with carbon and is very slippery by nature. Aluminum pistons with Iron rings worked out well for many years.
Without going into a history lesson, over time most cylinders changed and were made from cast aluminum. Aluminum engine blocks are much lighter and less expensive to manufacture. The liners/sleeves were still made from Cast iron since cast aluminum cylinders weren't a good surface to run iron rings against. The iron liners were either cast in or installed with a shrink fit.Over time, there was a need for more economical manufacturing methods. The engineering circles figured out how to get a hard chrome or carbide material to stick to aluminum in a plating process.  As we all know, many advances have occurred since the early days. Now, nearly all engine blocks are cast aluminum with some kind of hard coated (Nikasil) plating applied. Plated cylinders are much harder than iron sleeves which makes them a superior lasting product, most of the time. 
Whether it be wear, dirt or rocks, any kind of cylinder wall will score or wear out. The need for a new surface application pops its head up again. There are reasons to have an iron sleeve installed in your cylinder instead of a replate job. We are talking about 2-Stroke cylinders. Since we specialize in Iron liners, I'm speaking about the advantages:
With the number of oversized pistons available, a new liner may be many times more economical than a plating job.
Within mechanical limits, we can install a liner to accommodate most any oversized piston, Big & Small Bore kits.
The port configuration can be changed to increase the life of the piston and enable more accurate cylinder honing & sizing.
Your port timing can be altered any time during the life of the cylinder.
Completed Projects from the Beginning, Water coolers were just a Dream

                   
                    
Completed Projects from today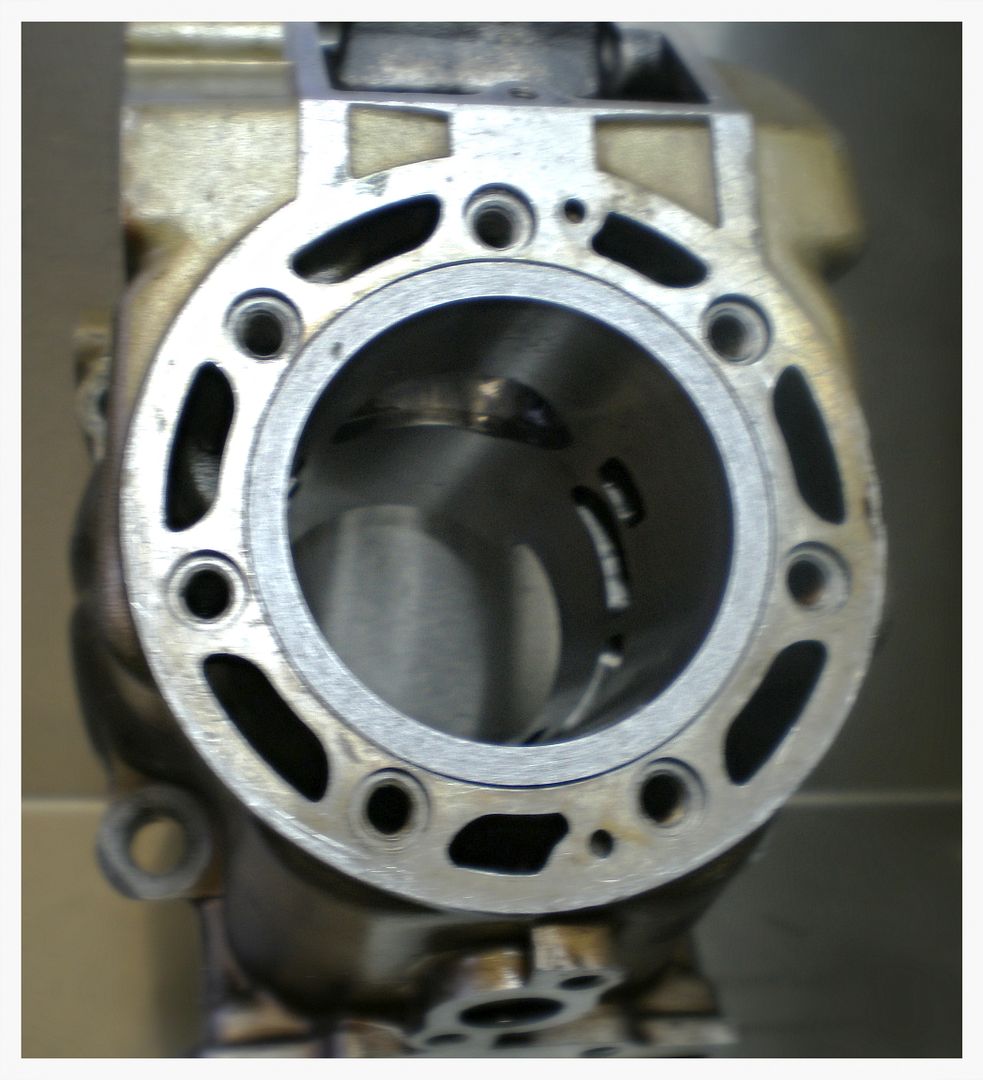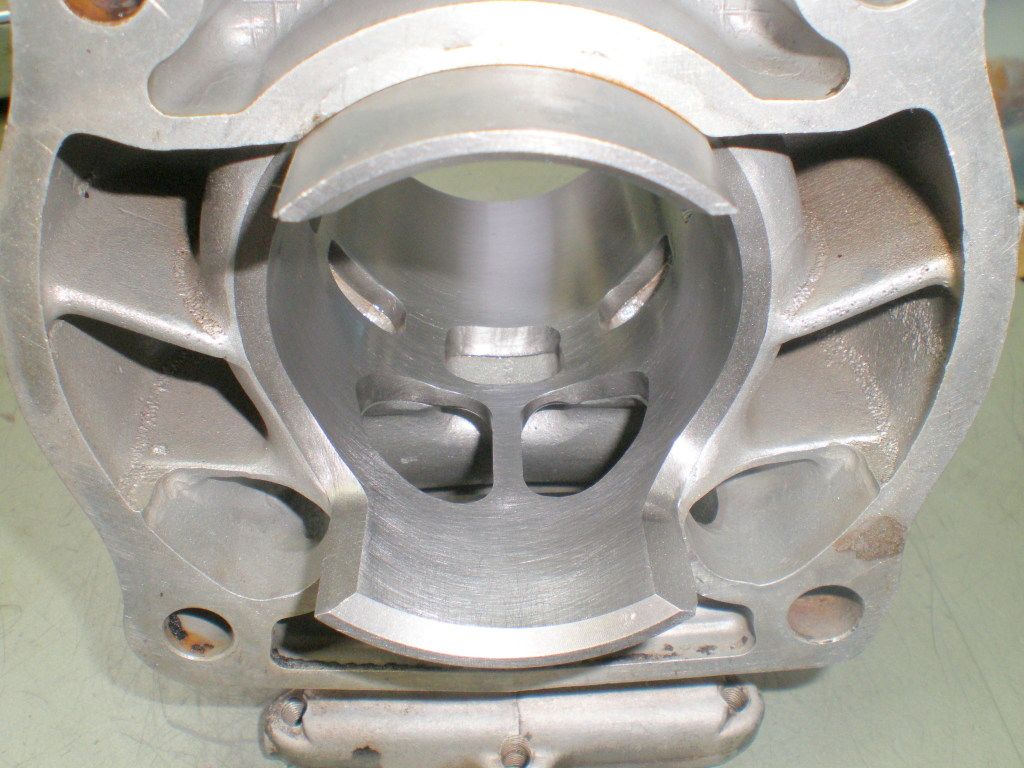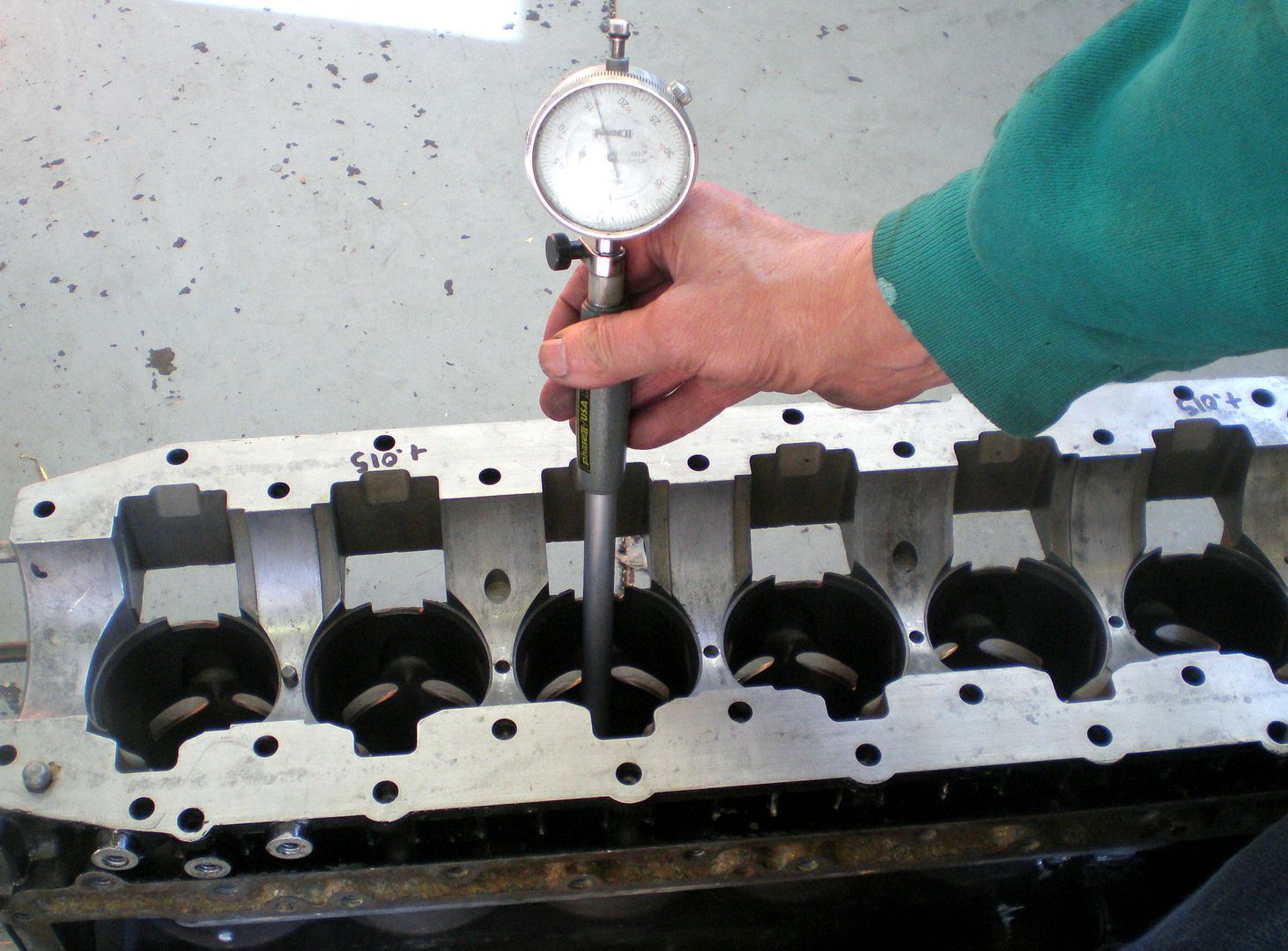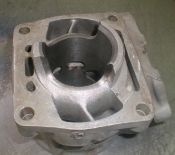 Concentric Spark Plug Relocation                                                                     CR-100 from CR-125 Sleeve Down
Performance Cylinder Porting

: This type of term has been going around since the first day of the Internal Combustion Engine. In 2-Strokers there are a couple of things to  talk about with Port Work.
1. Smoothing: Rounding and cleaning up of all of the sharp edges in the fuel path from the bottom end to the combustion chamber. This is a common sense operation that any of you can do yourself with small Dye type grinders, which are available at most specialty tool vendors.
     You need to understand that your cylinder is LOOP Scavenged, i.e. the fuel flow takes a LOOP when it travels from the Crank case through the transfer ports. Keep in mind that any port grinding must maintain the loop action of the fuel charge if you expect your machine to run properly. 
     As you look through the E2S website you will see examples of other's porting & polishing. If you do the same, your engine will perform the same, for FREE.    www.everything2stroke.com  Take a look, it's a Great Site.
2.  Port Height: Many times, you can alter the port heights to change the intended power band of the engine.
Exhaust port height: Time length of the power stroke & time length to expel the exhaust gases. Mostly they are about equal amounts. i.e. The Exhaust Port Height is about 1/2 of the Power Stroke.
Transfer port height: Time length of the power stroke for the fuel to loop scavenge from the crank case.
Lastly BLOW DOWN TIME: The difference between the Exhaust port height and the transfer port height.
     In the Blog sites people talk about how their engine has an aggressive mid range or top end power band port job. It may be so and your Seat of the Pants feel the performance. I can help you if you really want to know what they did to your engine. At least you'll know what questions to ask the Engine Builder. If the Builder uses and can give you proof with a Dyno chart, then you probably are using a good builder. Check out www.macdizzy.com You'll
find out things that other builders call "Trade Secrets"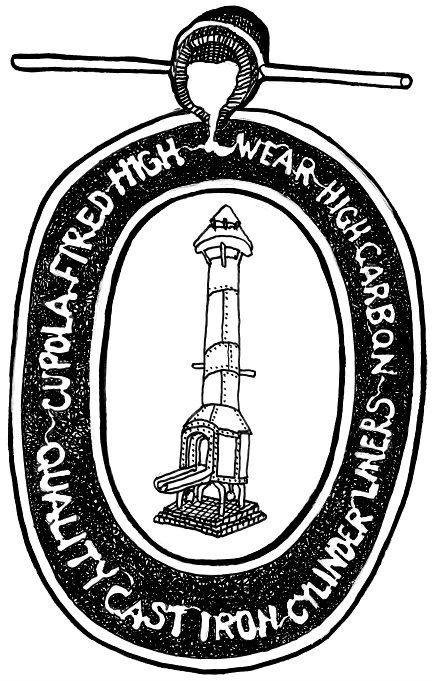 We do Sleeves / Liners the Old Fashion way, "Old School". Cupola Fired Iron castings provide a unique Carbon content which is believed to give longer Cylinder life.   
Design assistance provided by
www.bimotion.se